We at Customizing Creativity, are a design studio based out of Mumbai, India whose forte is customized wedding cards, bespoke invitations along with luxury stationery. We strive to achieve excellence by always keeping an eye for detail, a one-on-one personalized service & constantly working towards maintaining top-notch quality.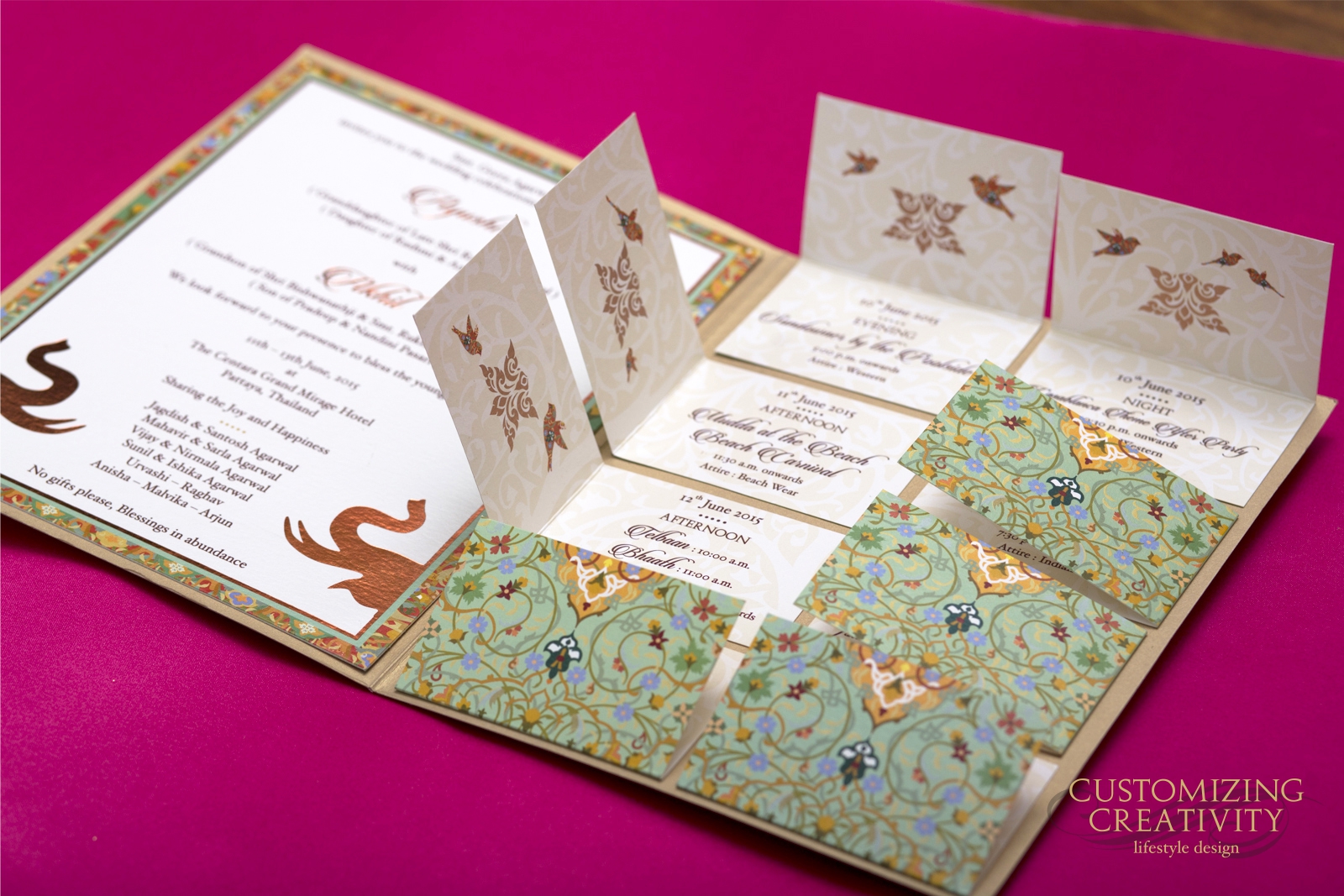 Historically, inviting someone to your wedding is a grand gesture. In many cultures, invitations are hand-delivered and sweetened with a box of chocolates or treats. Beyond setting the tone, your wedding invitation welcomes your guests to share in your joy and serves as an artifact of your union. Your invitation announces the journey that brought you to this milestone, the day your futures are joined before your community. We take pride in honoring this tradition with deep creative discovery. We believe that amongst the clutter of bills and advertisements, your guests should find a beautiful invitation to escape their everyday routine and celebrate with loved ones and reconnect with their friends and families.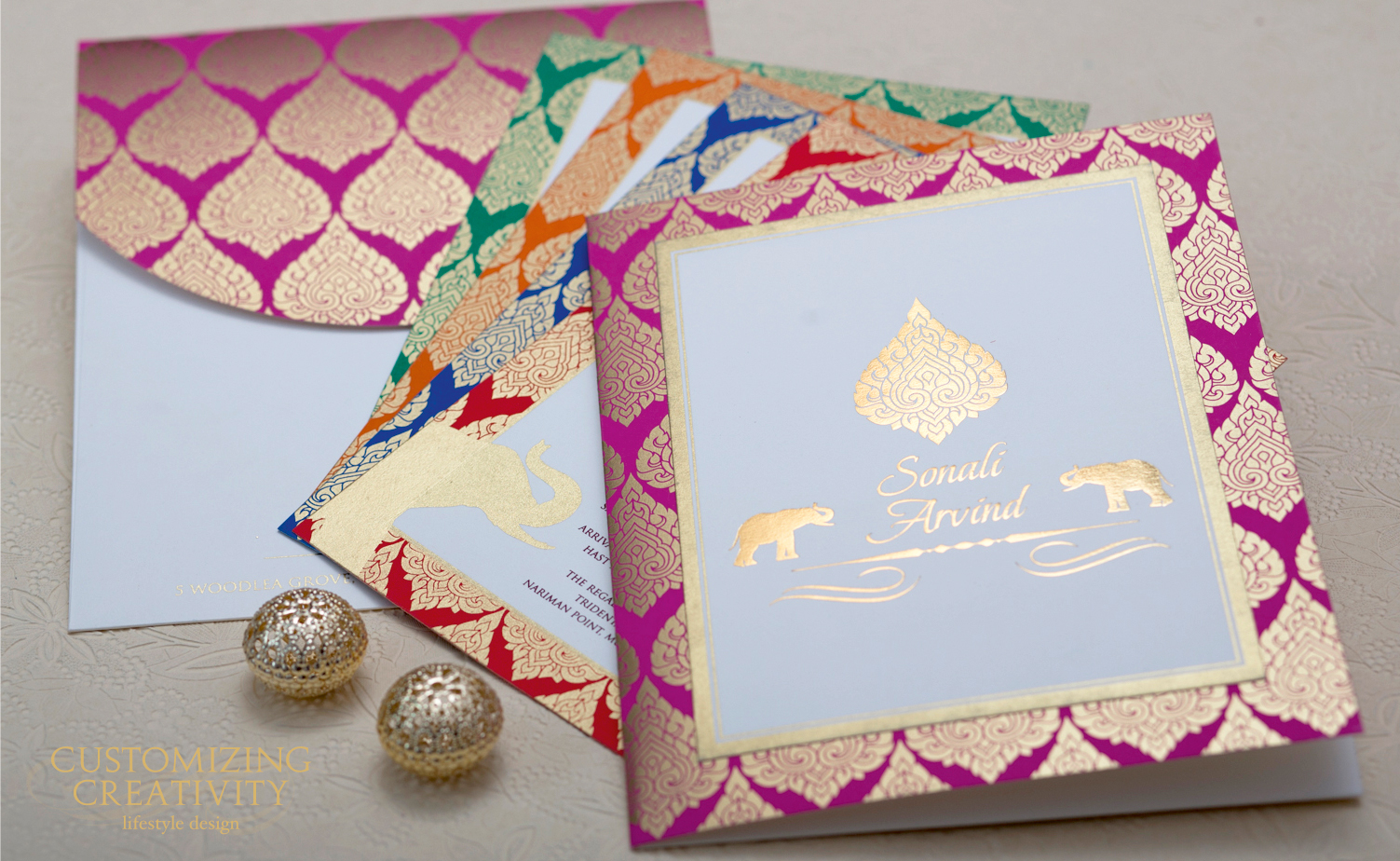 Our goal is to make sure this correspondence, sent from your heart, is designed to distinctly echo your sentiments and your style. Because it may seem like a small gesture, but your guests will always treasure the way you made them feel. As artists and designers, we navigate a unique creative process for each client. Our personalized experience is truly the heartbeat of our business and what sets us apart. We draw inspiration from the world around us - fashion, family, arts and entertainment, travel, and more - always striving to beautify your world. We navigate a unique creative process for each client. Our personalized experience is truly the heartbeat of our business and what sets us apart. Our array of invitations cards exudes opulence, grandiose as well as subtlety & elegance. With our talented design team we design your wedding cards from scratch for your big event - be it a birthday, a wedding, an anniversary or any other special occasion!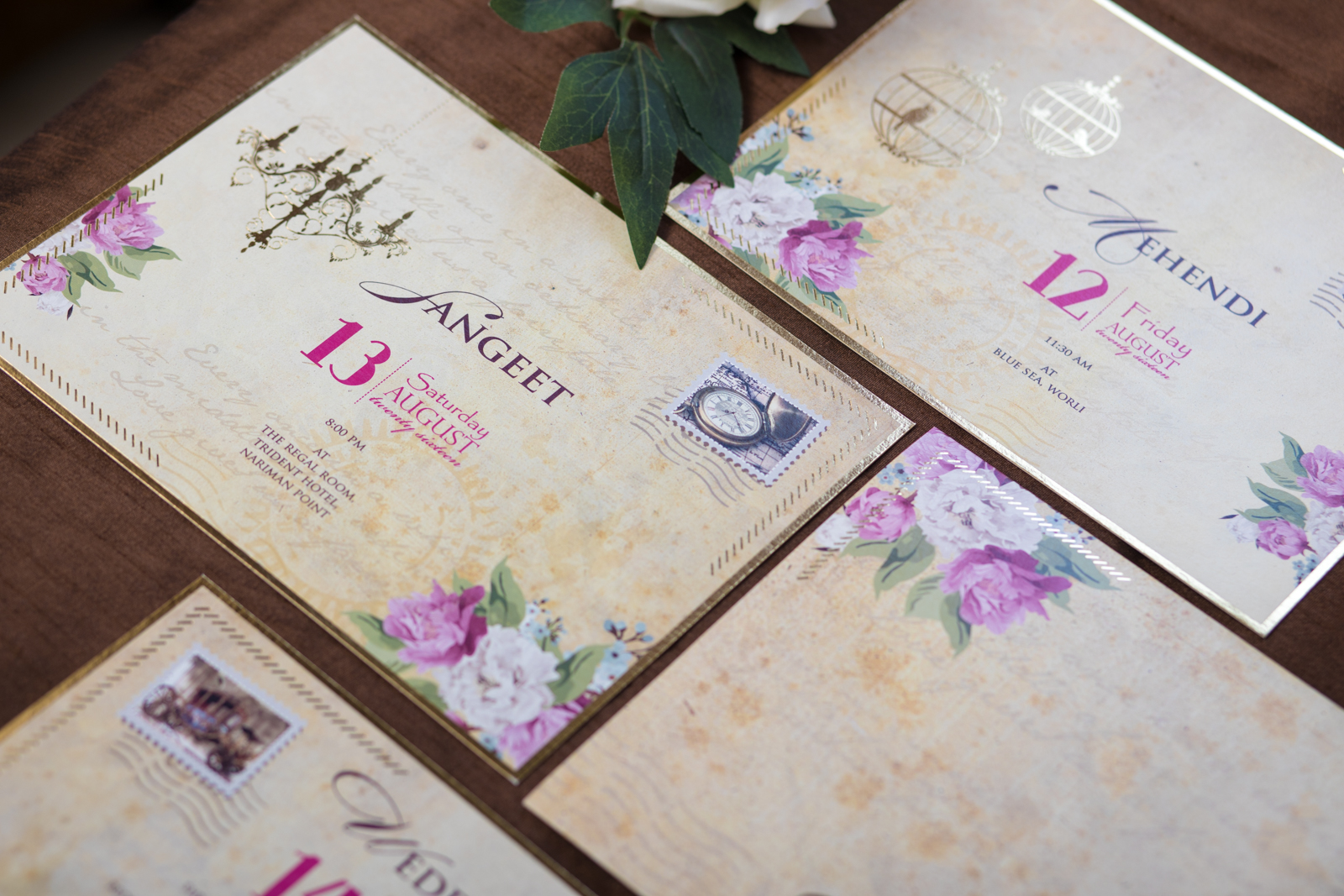 Testimonials
My mum and I had a great experience working with Disha & Harsh. Few things we would like to mention :- - She understood exactly what my mum & I wanted & created various themes & looks for us to choose from as per our brief. - Everything was delivered perfectly on time & they even took care of the last minute stationery promptly. - Disha was flexible with appointments & her timings. - They managed to do everything within our given budget very efficiently. We highly recommend Customizing Creativity for all your wedding cards & stationery needs.
- Upasana & Bhavana Tayal
January, 2018
We absolutely are in love with the cards! You did such a phenomenal job and have captured our vision perfectly. We have enjoyed working with you as you have been very patient and professional throughout the past few months with our numerous edits. Your promptness in responding to our e-mails and edits was very much appreciated - I couldn't even tell I was working with someone in another country and in a totally different time zone. The floral work and foiling is done very well and we can't stop looking at them! We hope that our guests love it as much as my family and we do! Best of luck on your upcoming stationary work - keep up the great work in bringing smiles to people all around the world with your beautiful work.
- Dishajyoti Nath
Unites States of America (June, 2017)
Wedding cards and stationary create the first impression about the bride's and the groom's families, and the expected wedding grandeur. I was extremely finicky about my wedding cards and was apprehensive in going in for some experimentation.. But team here at Customizing Creativity, under Disha and Harsh, made me feel absolutely relaxed about this arm of the whole wedding planning agenda! Absolutely stunning work, commendable professionalism and highly approachable and friendly people ! My family and friends were floored by their work and they even asked about Customizing Creativity's details! Their USP is they think out of the box, they know how important is it for the families and therefore are too patient with their client and their creativity has no limits.! I am proud to have been associated with them ! Thank you team for making my wedding so memorable and making feel so special !! Keep up the good work! All the best ! :)
- Apoorva Goel
Indore (February, 2017)
Your answer for a beautiful, elegant and one-of-a-kind wedding invite ends here! I have been more than happy to receive the customized services from Customizing Creativity. A chance browsing for a bespoke wedding invite and the beautiful samples created by the company led me to meet Disha Mehta. My first meeting with her itself sealed the deal for me, as I knew it could only be her who could translate my vision to a perfect execution. And I was not disappointed! Disha is an extremely patient creator, who incorporates all your inputs; shows you the blue-print and helps you decide. Never did she once brush aside any of our ideas and never did she once brush aside any of our inputs; no matter how minor a change it could be. She toiled on our cards, went back and forth on our designs, sent us numerous rough drafts until we were satisfied, and has always been available. The final output resulted in a beautiful, elegant and an aesthetically designed card. I fell absolutely in love with my invite and our families and invitees couldn't stop admiring them. It has been the best wedding invite I have set my set on and people complimenting us with 'It has been the best wedding invite we have ever received.' Disha, Harsh and the entire team of Customizing Creativity deserves all the kudos. Never have I seen people so patient. They take their job, passion, and their professionalism very seriously. And I admire them for that.
- Llewellyn & Sraddha Dias
Mumbai (February, 2017)
Harsh and Disha have honestly been the most helpful, supportive and extremely compassionate people to work with. Be it wedding cards or just some simple printed stationery the entire team has been really responsive and accurate when it comes to clients demands. They deliver exactly what is expected and that too in the budget defined. In fact, I have learned a lot about how to make and keep your customers happy from the Customizing Creativity team. Will definitely be coming back to them for all my future requirements!
- Darsh & Mansi Mehta
Canada (January, 2017)
Disha & Harsh are an absolute delight to work with ! When there were a million things to plan, thanks to them the cards were one thing that we absolutely did not have to worry about. Their delivery was prompt, the ideas were spot-on and the communication was perfect. They offer a friendly hand guiding you through the overwhelming choices and the end result turns out to be even better than you could've imagined. Thank you Disha and Harsh for the absolutely beautiful wedding card and stationary.
- Rashi Sanghvi
Mumbai (December, 2016)
Disha & Harsh are a joy to work with. They're always punching in ideas and always floating about creative stuff which helps a great deal in planning a wedding! They've been with us on the wedding talk from the word go and assisted us in ensuring we had the best design and quality of wedding cards. Their team is Creative, innovative and affordable but also give a special personal touch and their cards are truly Original Customized and Creative!!
- Palak & Parthiv Rokadia
Mumbai (December, 2015)
Disha & Harsh created our wedding invites just the way we wanted it. I wanted a Dholi on my card and a Baraat to be on Karan's set of invites. Disha did such an amazing job with the design that we are still getting compliments from our guests! Every little detail was taken care of and nothing was compromised in terms of quality.
- Miloni & Karan Parikh
Singapore (December, 2015)
Bespoke design, from concept to completion:
For couture wedding cards & stationery design, the possibilities are limitless and the embellishments endless. We'll create a completely original design for your event components, print styles, finishes and accessories.We let the creative sparks fly as we design your wedding cards & stationery that truly honors your story and style. Premium materials and perfect hues will be curated for your suite and carefully composed with refined typography and paper engineering.As we design your suite, we'll help guide you through appropriate etiquette and navigate customs and traditions to make sure the wording perfectly captures your sentiments and the design is on-point.
While our specialty is creating bespoke wedding card designs just for you, we are happy to personalize any existing design to make it yours. We can customize colors, size, type and components for any design found in our portfolio. We can add additional enclosures, custom folios and pockets, add-on components, hand-dyed or printed ribbons, specialty finishes, guest addressing or make most major design revisions upon request!
While we are situated in the heart of Mumbai, our services of designing and printing of wedding cards & stationery are available to all our clients around the world. We are available on all online mediums to connect with you, just so you can make your special day even more special.